The Global Citizen's Club was formed by the World Business Academy motivated by the saying "Think Globally, Act Locally". We engage local citizens through regular stakeholder meetings and panels addressing the most crucial social, economic, and environmental issues faced by Santa Barbara today. Additional benefits for GCC members and affiliates are listed here:
Individual Member
Belmond El Encanto: Discounts of 15% on food and drinks at all times, and discounts of 20% Monday through Thursday on rooms, spa services and small catered events; the hotel will provide GCC members with an access code to use when making guest room reservations
2 seats at monthly GCC meeting at the Belmond El Encanto or other meeting venue featuring keynote speakers on timely topics
Future discounts as offered through partner organizations enrolled in the GCC
Affiliate Organization
2 seats at GCC meeting at the Belmond El Encanto or other meeting venue featuring keynote speakers on timely topics
An opportunity to partner and collaborate with the World Business Academy and the other member organizations of the GCC to increase exposure and awareness for your organization's message
Meetings will be structured to include timely and engaging presentations by guest speakers and local dignitaries
Information table at meetings to display partner organizations collateral
Speaker time at meetings to inform attendees about their organization and any special events or updates
Listing of your organization in the GCC digital newsletter
Latest News
2019-03-29 18:55:36
We are now on the precipice of systemic change to our planetary climate system... The near-unanimous consensus at last year's IPCC 1.5 conference, combined with an initial wave of climate change impacts in the form of stronger hurricanes, more violent storms/floods and longer drought, demands a holistic transition of all economic sectors to a carbon-free…
2019-03-28 22:54:13
The World Business Academy's newest project, "Solutions News" with host Rinaldo Brutoco, has hit the ground running! Each week, the show offers listeners inspiring ideas, new solutions and clever strategies to solve the local, national and global challenges we face each day. We also feature interviews with solutions thinkers from various fields who are courageously…
2019-02-01 00:29:36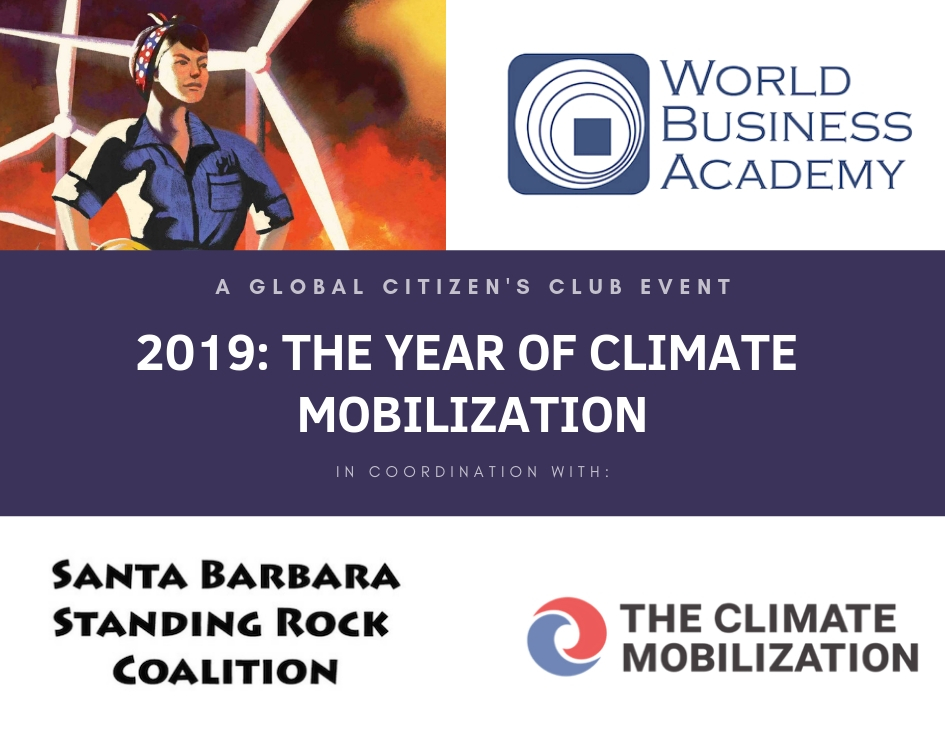 The World Business Academy's Global Citizens Club is hosting a meeting on Feb. 19 titled, "2019: The Year for Climate Mobilization." The event features a video statement from Climate Change icon Bill McKibben and a panel discussion with climate activists and local experts discussing grassroots mobilization. Club members and the public are invited to attend…
Contact
Anyone interested in joining the Global Citizen's Club may contact Viviana Gonzalez at the World Business Academy. Call 805-892-4600 to reach her directly or by email at [email protected].
Sponsors and Affiliate Organizations