In 2005 the Board of the World Business Academy voted to create a chair for the renowned diplomat Akio Matsumura, who has dedicated his life to building bridges between government, business, and spiritual leaders in the cause of world peace.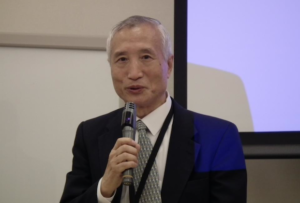 The Intent of the Matsumura Chair: To apply in the private sector the talents and contacts developed in 30 years' success in international diplomacy, in the resolution of a major problem confronting a multinational corporation. To develop a framework for an integral approach to a seemingly intractable transcultural challenge involving strategic, financial, and spiritual considerations.
About Akio Matsumura
Background: Throughout his long career at the United Nations and other organizations he has created events for current and future political leaders that often changed the courses of their lives. More often than not, the timing and location of these meetings has been prescient: conferences he has arranged in Kyoto, Rio de Janeiro, Jericho, Moscow, and Constantinople have all preceded major "tectonic" shifts of power in those areas.
Heads of state, corporations, and churches all have noticed his uncanny ability to "dial into" the most difficult situations, inducing people to break taboos, and connect at a deeper human level to find a solution.
Accomplishments: In the last two decades of the 20th century, Akio created many of the events that spoke of a higher sense of connectedness between all nations and cultures across the earth:
| | |
| --- | --- |
| 1999 | European Parliamentary steering meeting at Parliament Building, in Berlin |
| 1997 | Secretary-General, Central Asian Parliamentary and Spiritual Conference, at Konya, Turkey |
| 1995 | Organizer, World Assembly on Reconciliation hosted by Prime Minister Rabin and Chairman Arafat, at Jericho |
| 1992 | First Secretary-General, International Green Cross |
| 1992 | Secretary-General, Parliamentary Earth Summit Conference, at Rio de Janeiro |
| 1990 | Secretary-General, Global Forum Conference hosted by President Gorbachev at the Kremlin |
| 1982-1993 | Advisor to United Nations Development Program |
| 1988 | Secretary-General, Oxford Global Conference of Spiritual and Parliamentary Leaders on Human Survival, hosted by Archbishop of Canterbury, at Oxford University |
| 1985 | Founder, Global Forum of Spiritual and Parliamentary Leaders on Human Survival |
| 1984 | All-Arab Regional Parliamentary Conference on Population, at Tunis |
| 1983-1989 | An Initiating Member and Advisor of the InterAction Council of Former Heads of Government |
| 1981 | Conference Coordinator, Asian Parliamentary Conference on Population, hosted by the Chinese Government, sponsored by the UNFPA |
| 1979 | Chief Coordinator, World Parliamentary Conference, hosted the Sri Lankan Government, sponsored by the UNFPA |
About the Chair, in his own words…
My goal is to assist corporations to successfully deal with the very difficult problems of change in our current world environment.
All of us are trying to prosper in a fluid, ambiguous marketplace. We all are negotiating our way through the tensions created by conflicting sets of stakeholders. But only some organizations are discovering an ability to move forward with confidence, based on a clear sense of spirit and purpose. My goal is to establish long-term relationships with a small number of business organizations.
Within such a relationship I believe I can provide counsel to senior management regarding approaches to problems that might seem overwhelming or unsolvable.
As the world enters the 21st century the emphasis in relationships is shifting from transactions to an emphasis on ethics, values, and spirituality. It is becoming a world in which culture and spirituality should not merely be acknowledged but become the cornerstone of business practices. I believe I can serve as a guide and mediator on this path for businesses as well as governments and NGOs.
For over 30 years I have been finding ways to address the most difficult of problems. At one time or another I have tackled the issues of world peace, population explosion, hunger and religious/ethnic conflict.
In my own way, based on my personal life experiences, I have found hope and courage where others have not. I have found ways to bring people together to find common purpose. In part this is because I have been fortunate to live in both the Eastern and Western traditions, and to enjoy the friendship of many people from all corners of the world.
This has been possible because I place high importance on seeking the "spiritual" elements in these problems, not only the practical ones. People in influential positions often choose to be advocates only for their own views, but I know they are eager to rise above those narrow positions when given a chance.
No truly important problem can be put right unless the decision makers are grounded in the spiritual dimensions of their work. There is an inevitable tension between realism and idealism in this world. The easy problems are being solved by technical experts. To work on the tensions associated with the deeper conflicts requires making spiritual dimensions relevant to the problem solving process.
Read excerpts of an interview with Akio Matsumura published in the Academy's Global Reconstruction publication series.
As Akio Matsumura creates the new role of a cross-cultural advisor in the world of business, Linwood Fredericksen has written an erudite appraisal of such a position.
In the words of others…
I have a powerful position of the UN, a staff of 4,000 and a huge office, but Akio does not have any of this. However he can bring President Gorbachev and Mother Teresa together at a meeting, which I can not do.

Bradford Morse, former administrator, UN Development Program
A spiritual beginning must be the basis of any initiative. Akio has always faithfully acted upon this conviction. His devotion to it has made it possible for him not only to overcome numerous obstacles and problems but also help others.

President Mikhail Gorbachev
He has the spirit of a saint, the skill of a mediator, the mind of one inspired by an awesome Creator, and Cosmic friend, and the imaginative courage of a genuine, one of a kind, historic initiator. His sense of urgency is grounded in the dramatic and traumatic struggle of our time which is as much spiritual as it is political.

Glenn A. Olds, former US ambassador to the UN
He is the most completely selfless, dedicated person I have ever known. Failure is a word he does not know. It is only for him a challenge to move forward again.

John C. Whitehead, former deputy secretary of State, USA; co-chairman Goldman Sachs, ret. chairman, Lower Manhattan Redevelopment Corporation